Circuit Board Thermocouple Connectors, Standard and Miniature Size
THB14,685.00 PCC-SMP-K-100
New printing on connectors, please see description for details
For OEM Uses
Attaches Directly to Circuit Board, Mounting Clip with Each Connector
Perfect for Handheld Thermometers
J, K, T,E and U Calibrations
N Calibration Available in Mini-SMP Style Connector
Mount in Horizontal or Vertical Position
Optional Retainer Clip for TO-92 StyleTransistor Providing Cold Junctiion Compensation.
Accepts Either Standard or Miniature Size Male Connectors
Mounting Holes Shown in SPEC LINK Below
Thermocouple Connectors for PCB Board
Custom Units Designed for CE Compliance - Contact Sales
Thermocouple Connectors and Panel Systems - View related products
Description
The miniature connector is available in either horizontal or vertical mounting style. These connectors are also available with closed ends or transistor retainer clips. The PCC-SMP optional transistor retainer clip accepts TO-92 style transistors for cold junction temperature measurements at the transition from thermocouple alloy to copper wire.

See below for updated printing on the connector: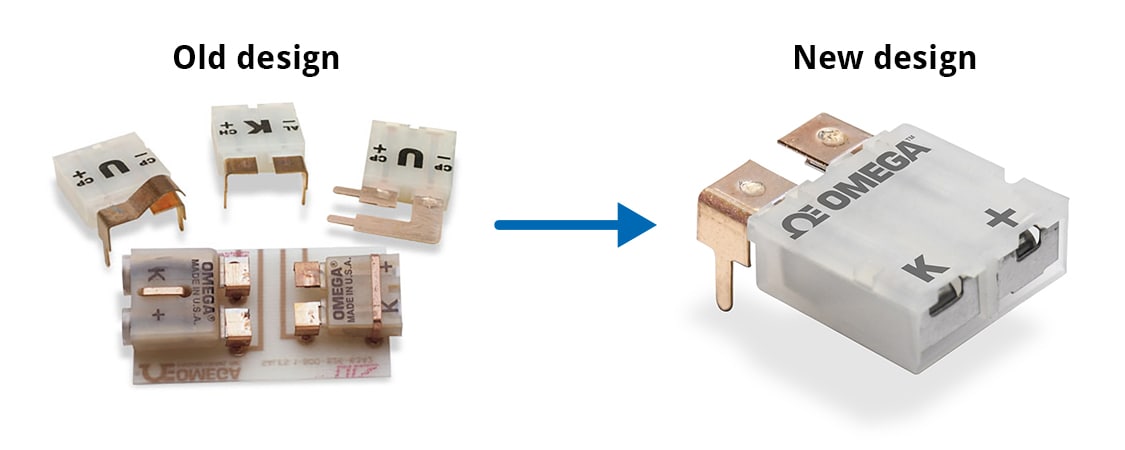 † All prices on this site are shown in Thai Baht.
Note:
**To order with optional transistor retainer clip, add suffix "-R" to model no.
(OPTIONS SHOWN IN THIS "NOTE" ABOVE ARE PRICED IN US$)

Our PCC-OST connectors will not be available after December 31st, 2018. Please consider buying our round face PCC_SMP, or contact sales or our Temperature Engineering department.
Ordering Example: (1) PCC-SMP-K-100-R Circuit board connector for miniature connectors, type K calibration, with transistor retainer clips. Package of 100, THB15,715.00
Option Descriptions:
(1) Mounting Style
select from:
Nothing(leave field blank)
for Horizontal
-V
for Vertical
(2) Thermocouple Calibration
select from:
K
for Type K
T
for Type T
J
for Type J
E
for Type E
U
for Type U
N
for Type N
(3) Quantity in Package
select from:
5
for Package of 5
50
for Package of 50
100
for Package of 100
(4) Optional Transistor Clip
select from:
Nothing(leave field blank)
for No Clip
-R
for for TO-92 Style Transistor Clip
(5) ROHS
select from:
Nothing(leave field blank)
for Non-ROHS
-ROHS
for ROHS
Note: All combinations may not be valid, check spec sheet for valid part numbers.